21 April 2023
AIR INDIA | CENTRAL PATTANA BOARDING PASS PRIVILEGES | 登机牌特权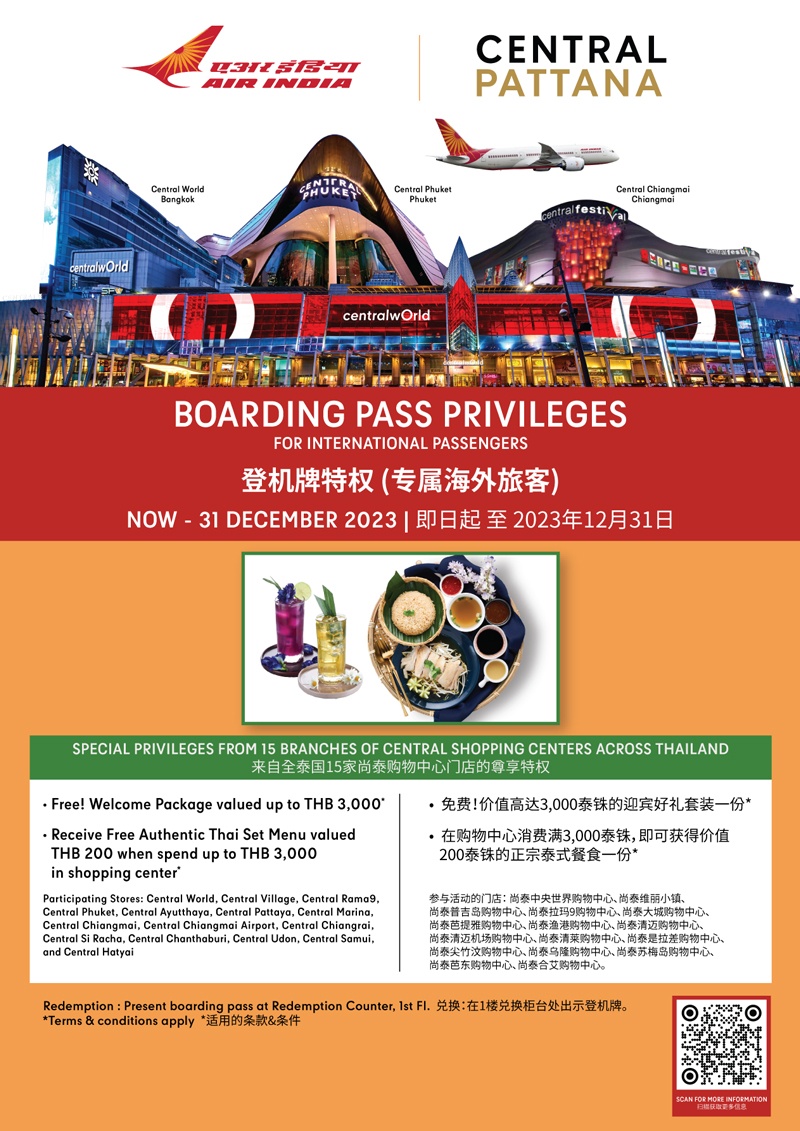 FOR INTERNATIONAL PASSENGERS |海外旅客专属
NOW - 31 DECEMBER 2023 | 即日起 至 2023年12月31日
PRIVILEGES FROM 15 BRANCHES OF CENTRAL SHOPPING CENTERS ACROSS THAILAND
来自全泰国15家尚泰购物中心门店的尊享特权
Free! Welcome Package valued up to THB 3,000*
免费!价值高达3,000泰铢的迎宾好礼套装一份*
Received Free Authentic Thai Set Menu valued THB 200 when spending up to THB 3,000 in shopping centers*
在购物中心消费满3,000泰铢,即可获得价值200泰铢的正宗泰式餐食一份*
Participating Central Shopping Centers: Central World, Central Village, Central Rama9, Central Phuket, Central Ayutthaya, Central Marina, Central Pattaya, Central Chiang Mai, Central Chiang Mai Airport, Central Chiang Rai, Central Si Racha, Central Chantaburi, Central Udon, Central Samui, and Central Hatyai
参与活动的门店:尚泰中央世界购物中心、尚泰维丽小镇、尚泰拉玛9购物中心、尚泰普吉岛购物中心、尚泰大城购物中心、尚泰渔港购物中心、尚泰芭提雅购物中心、尚泰清迈购物中心、尚泰清迈机场购物中心、尚泰清莱购物中心、尚泰是拉差购物中心、尚泰尖竹汶购物中心、尚泰乌隆购物中心、尚泰苏梅岛购物中心、尚泰合艾购物中心。
Redemption: Present boarding pass at Redemption Counter, 1st Fl.
兑换:在1楼兑换柜台处出示登机牌。
Terms & Conditions:
The privileges are only available for international (non-Thai) Air India's passengers.
Customer must present boarding-pass or e-boarding pass to receive privileges at participating branches. It must be valid 60 days after the traveling date.
Welcome Package's value may vary due to number of participating tenants in each shopping center.
Customer must present Free Authentic Thai Set Menu coupon and receipts from tenants with total amount of THB3,000 to receive "Thai Payaya Salad with Sticky Rice & Thai Herbal Drink" (or similar menu) at food court. The reward is valid 50 rights/ month/ all participating branches.
Nok Air Boarding Pass or e-boarding pass offers are available in limited amounts per month, first come first served basis.
This promotion cannot be applied or combined with any online sales promotion or Chat & Shop services.
This promotion cannot be applied with Robinson, Central Department Store, Tops Food Hall, TOPS, Family Mart, Powerbuy, Supersports, B2S, Homeworks, Thai Watsadu, and Office Mate.
Receipt from tenants of gold, diamonds, jewelry, utility bills, any financial transactions, top-ups, and gift card purchases cannot be applied.
Campaign period is now until 31 December 2023.
Company reserves the right to change or cancel the privileges and conditions without prior notice.
条款 & 条件:
此优惠特权仅限Air India航空海外旅客(非泰籍)
顾客需在参与活动的门店出示纸质或电子登机牌方可享受该专属特权。登机牌特权自旅行日期起60天内有效。
不同的购物中心,由于参与活动商家数量的不同,所提供的迎宾好礼价值可能有所差异。
顾客须出示"免费正宗泰式餐食"兑换券和总额满3,000泰铢的购物小票方可在餐饮区(Food Court)领取"海南鸡饭&泰式草本饮料"(或相似套餐)一份。该奖励仅限50份/月/所有参与活动的门店。
皇雀航空纸质&电子登机牌优惠特权每月数量有限,先到先得。
此优惠活动不与任何线上或"Chat & Shop商城"的促销合用。
此优惠活动不适用于罗宾逊(Robinson)、尚泰百货商店、Tops Food Hall生鲜超市、Tops 超市、FamilyMart 便利商店、Power Buy家电、Supersports运动用品、B2S书城、Homeworks、Thai Watsadu五金建材、OfficeMate 办公用品。
购买黄金、钻石、珠宝、水电费缴费单、财务交易凭证、充值小票、购买现金券等开具的小票不适用于此优惠活动。
活动期限:即日起 至 2023年12月31日
本公司保留更改或取消上述优惠及条件的权利,恕不另行通知。